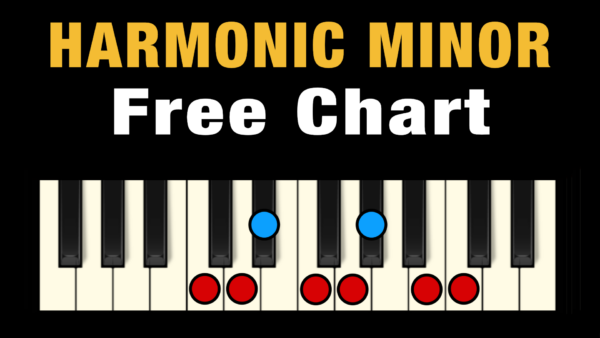 Download this Free PDF Chart of the Harmonic Minor Scale in every key on Piano.
You can choose if you want to print it out, or if you prefer to bookmark this page for reference.
This is a complete guide of the harmonic minor scale, but also an excellent quick overview at the same time.
The Harmonic Minor Scale – Quick Overview
Emotion: Sad, Tragic, Exotic, Middle-East
Degrees: 1 – 2 – b3 – 4 – 5 – b6 – 7
Pattern: R – W – H – W – W – H – 3H -H
Harmony: R – M2 – m3 – P4 – P5 – m6 – M7 – P8
Chords: i – ii° – III+ – iv – V – VI – vii°
The Harmonic Minor Scale – Chord Guide
i = minor, min/M7
ii° = diminished, m7(b5)
III+ = Augmented, M7(#5)
iv = minor, min 7
V = Major, Dom 7
VI = Major, Maj 7
vii° = diminished, dim 7
Harmonic Minor Scale Chart for Piano
PS. Free Downloads for You