Do you want to write and perform realistic strings in your music? Do you want to craft the expression, movement and emotion of your string parts with the highest degree of control? Then the SWAM solo strings bundle might be just perfect for you! =)
THE OVERVIEW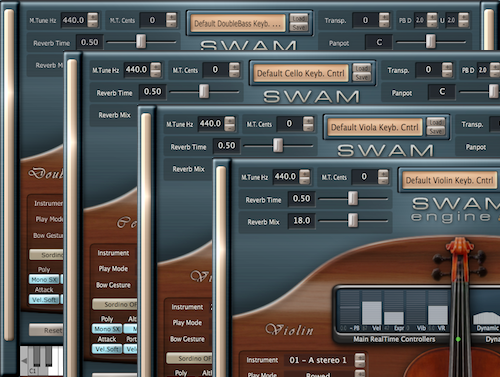 What is SWAM Solo Strings? This is a collection of 4 instruments, which form a string section: Bass, Cello, Viola and Violin.
They are physically modelled instruments. Which means the sound is based on advanced algorithms, instead of simply playing back a bunch of recordings.
MY THOUGHTS
Hello composers, Mike here, and I've been trying out the solo strings bundle from SWAM during this summer. And I have to say I am truly impressed by the incredible control these instruments give us composers.
You can control all kinds of mappings, for example to the MOD-wheel, expression pedal, breath controller or any MIDI faders you have. Then you can map these to for example: dynamics, vibrato depth, vibrato speed, portamento speed and so on.
I have simply fallen in love with this high degree of control over every performance. What I have been lacking the most in sample libraries, is the control over the transitions and vibrato of every note. Transitions meaning how you go from one note to the next, and how you control the vibrato over the sustain of the note.
SOUND DEMO VIDEO
MY 3 FAVORITE THINGS
The Expression & Emotion
Honestly it is amazing. If you have a breath controller, or an expression pedal, it is a pure joy to just sit and play these instruments on your MIDI keyboard.
The Mapping Control
I love when developers give me huge control over the mapping of every kind of expressive and performance control.
The Pure Sound
When you record an instrument sample by sample into a sample library, you can not avoid getting the room or hall into the sound. With SWAM you get the dry and raw sound of the instruments. This means you can shape the sound completely, using reverb.
MY CONSTRUCTIVE FEEDBACK
The main limitation of these instruments, is that you can only play melodic lines, meaning one note at a time.
Another thing I lack which I would love if it was added, is an ensemble mode, meaning some way of creating realistic ensembles for each instrument. With control over amount of players, timing variations etc.
MY FINAL THOUGHTS
SWAM solo strings bundle might have a bit of a learning curve since you have so much control. But once you start to get the feel and flow for these instruments, you will be able to write and perform amazing string parts for your music.
So for realistic melodic and expressive strings, these have been added into my favorite list in my DAW.
LEARN MORE
Learn more about SWAM solo strings here. Get a full overview and specifications, listen to audio demos etc.
PS. Free Downloads for You