Are you looking for great sounding, and ultra adaptable and playable solo brass VST plugins or sample libraries for your music?
Audio Modeling is a company that is at the frontier of physical modeling of acoustic instruments. This means that instead of relying on samples, which are snap shots of sounds played by an instrument, they have advanced mathematical algorithms of instrument behavior, physics, acoustics etc.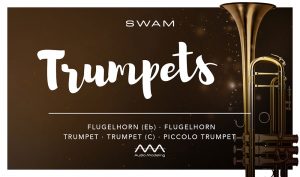 The final result is something that goes way beyond traditional sample libraries in terms of flexibility, adaptability, playability and tonal shaping. It means YOU will be in control of both the sound and the performance.
It also means that you need to learn how to perform to get the best out of the instrument. I strongly recommend that you put a lot of  effort in learning how to use the MOD-wheel, faders and perhaps even a breath controller and/or expression pedal to shape every performance and part in your music.
An important note is that physical modeled instrument like SWAM Solo Brass will be ultra light on drive space and RAM, but the advanced algorithms means these products will need a really good CPU.
What you get in the SWAM Solo Brass Bundle
This bundle includes 3 different products: SWAM Trumpets, SWAM trombones and SWAM Horns & Tubas. But if you dive into each of them, you actually get plenty of options inside each product.
SWAM Trumpets include: Flugelhorn, Flugelhorn (Eb), Trumpet (Bb), Trumpet (C), Piccolo Trumpet.
SWAM Trombones include: Double Bass Trombone, Bass Trombone, Tenor Bass Trombone, Tenor Trombone and Alto Trombone
SWAM Horns & Tubas include: Bass Tuba, Tuba (Eb), Euphonium, French Horn (F), French Horn (Bb)
The User Interface
They really made a beautiful user interface, that is also very clear and well designed in terms of usability. The main page is the one you will use the most, and here you can see all the main expressive controls: pitch bend range, vibrato strength, velocity, and expression (dynamics). You can also shape the tone with special "brass articulations" like flutter tongue and growl. And even dial in the perfect amount of breath noise and mute control for mutes.
Then there are individual pages where you can dive deeper into expressivity controls, play modes, timbre, pitch, and an advanced section for super detailed control.
In the top right corner of the interface you will find the classic three dots, which means more options. And here is one of my favorite features of all new products I get for my music composition tool box. And that is "interface size". So that you can make the interface bigger and smaller to fit your screen.
To the left of the 3 dots, you see the connections icon. Where you can quickly and easily map controllers such as MIDI faders to a specific parameter in the instrument.
I also love the fact that the interface is "interactive" in the sense that you can see the dynamics over time when you play, the current articulation of each note, and even the image of the instrument itself as it moves as you play.
SWAM Solo Brass Bundle – Final Review
All in all, I love this brass bundle. Simply because it is so expressive, playable and adaptable to whatever you play, and any genre/style of music you compose. You can do anything from sexy jazz brass, to big band brass, all the way to cinematic and orchestral compositions.
And you can perform pretty much every articulation possible in the brass instrument family, with extreme attention to human variation and tiny fluctuations over time. So that anything from fast rhythmic passages, to sweeping melodies, all sound different.
PS. Free Downloads for You