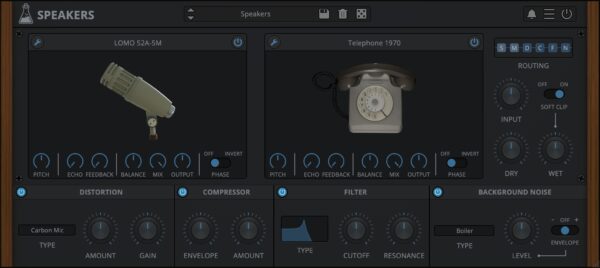 Are you looking for ways to make your sounds retro, with a nostalgic vibe?
The Speakers VST Plugin by AudioThing is a very unique tool to achieve just that. Basically you add it an effect on any instrument or sound in your production, and then apply a preset that will radically change the timbre and tone of your sound.
What does the Speakers VST Plugin do?
It adds the "fingerprint" of an emulated speaker system or microphone, and adds that to your instrument or sound. Basically you can make any sound you have in your project, turned into something that sounds like an old telephone, radio system, or microphone.
Since it has zero latency you can even use it live when recording parts, add automation etc. You can even create your own custom presets by changing the sound types, and added internal effects chain like distortion, compression, filters and even custom background sounds.
You can also mix the sources, change pitch, balance, add feedback, echo and adjust output gain. And there is an output routing section for dry/wet mix, but also change the order in the signal chain.
You get access to:
47 speakers: cabinets, devices, phones, radios, speakers, toys
30 microphones: condensers, dynamics, phones, ribbons, and more
15 distortion/degradation algorithms: from carbon mic overdrive to GSM interference
35 background noises: devices, places, organic, and more
How to use Speakers VST Plugin?
Whenever you want to change your instruments or sounds into a nostalgic retro sound, then this is a great tool. Or perhaps use it at certain spots in your production, for example the intro, or a drop or break down…so that you will be able to turn it off when the chorus hits for a more powerful contrast.
It can also be an amazing tool for retro sounding soundtrack music for video games etc. In fact, that would be my main personal use case for this plugin.
PS. Free Downloads for You