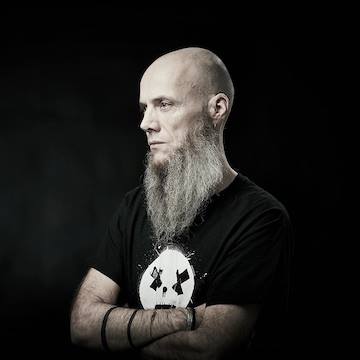 Hello Composers, Mike here! =)
Do you want to get into lots of music libraries, so that you can make money from music licensing?
Great, because today I have the great opportunity to interview Frank Schlimbach (in the picture), who is a composer working with lots of different music libraries.
He will share his story and experience, as well as give you tips and insights to help you get started. Let's dive in! =)
First: Listen to this album of dark music he made:
1. Hello Frank, how did you manage to get into so many music libraries?
You need a lot if time doing the research, finding those libraries and then upload, metadata, write descriptions etc.
I need 3 month to find all this 50 non exclusive libraries I will mention in my videos and I am still uploading every day. (Note: Check Frank's YouTube Channel where he shares videos about different music libraries).
2. Can you give some tips for composers that are new to music libraries, on how to get started?
First of all write good music, watch YouTube videos how to mix, master and built a tv ready track. Write 1 track, make different edits of this track like 15sec, 30sec, 60 sec, Stinger, Bumper, Instrumental, No Drum Version etc.
So you can easy make out of 1 track 6-8 edits which will help building your catalog. Upload metadata for your tracks with tags (keywords), contact information, track title, album title etc.
3. What is your story and background as a composer?
I was a bass player, drummer and vocalist from 1993 – 2013. Then a good friend of mine, founder of Trailer Rebel, Valentin Boomes, showed me how to make music on a computer with virtual instruments.
It was a mind-blowing experience for me and I started working for the German company Soundtaxi. I did not know what a P.R.O. is and I sold my tracks royalty free for years.
Then I started making trailer music for Trailer Rebel, Frontier Trailer Music and others, did a Solo Album For Klanglobby and BMG and until today I write for big companies like Universal, Sonoton, BMG, Warner, 5 Alarm Music etc.
4. Do you have any productivity tips for producing more music?
As I mentioned above make Edits ! For faster workflow I use always Templates. I have different templates for orchestral, cinematic, drama, horror, trailer etc.
5. What are your goals for your career in music?
I am doing this just for fun, I am happy if my music is on tv. I am in that good position I do not have to make my money with it.
6. Anything else you want to add, words of wisdom and motivation perhaps?
Upload daily, make music daily and if you get no feedback, don't be frustrated. It all takes so much time in this industry.
I have maybe 250 tracks send to different publishers and all tracks are NOT online atm. I wait for weeks and month until they appear on the publishers site.
7. What's your website, social media etc?
PS. Free Downloads for You