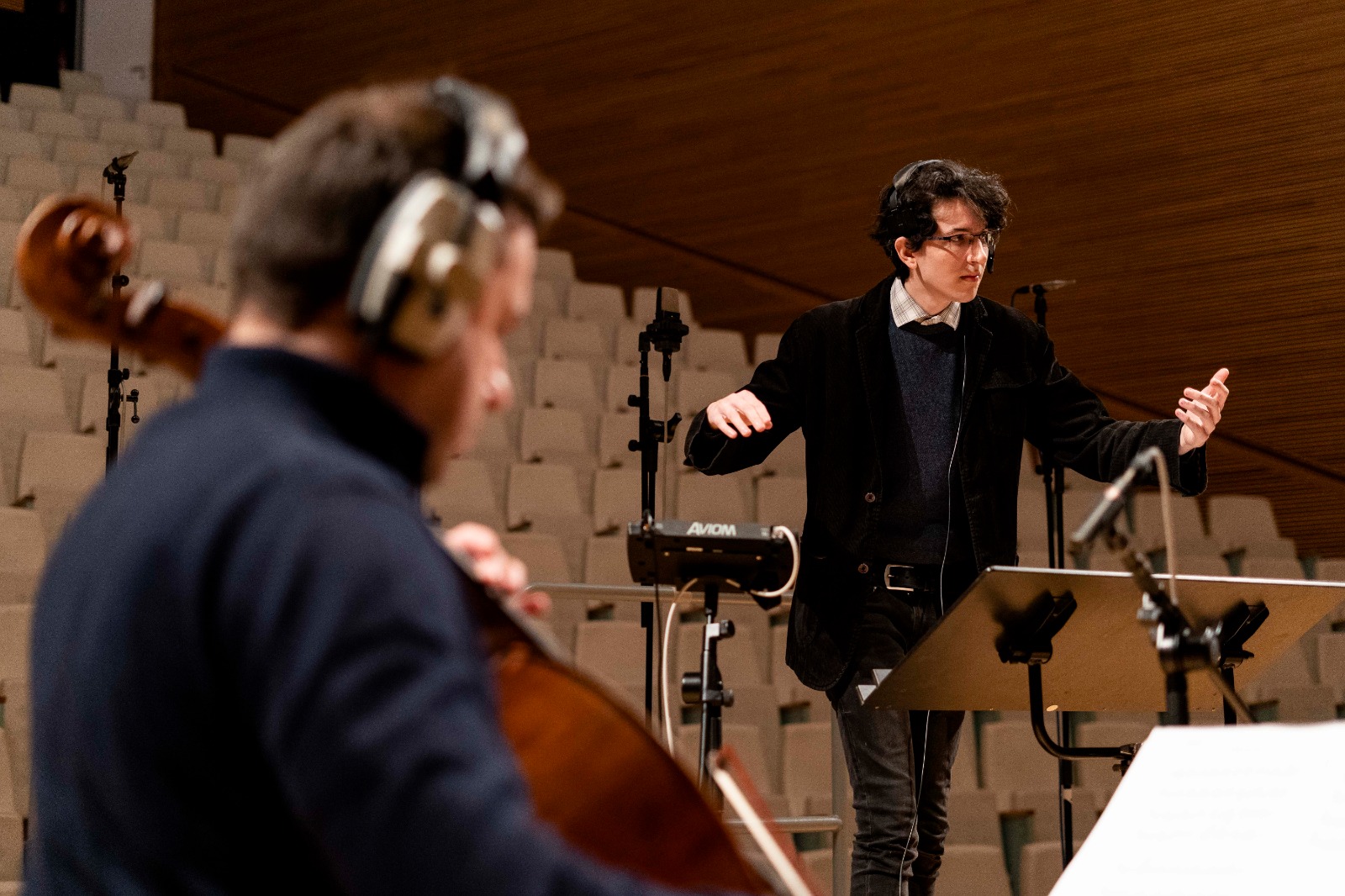 Kickstart your Composer Career!
How do you get your career started as a fresh composer? Perhaps you went to music school, university or simply studied from self-learning with books and online courses?
Today I have the honor to interview Hillel Teplitzki, an experienced composer who also gives lectures on this very topic. You will get great tips/insights from him in this interview!
1. Hello Hillel, what is your background & story as a composer?
Hello! I am not sure if it constitutes as a story/background but I knew from a fairly young age that I wish to pursue a career in music and I was very lucky to have great parents who supported my passion.
It was important for me from a young age to get both academic and hands on experience. So while I got my bachelors in composition from the Jerusalem Academy of Music and my masters in Scoring for Film, TV, and Video Games from Berklee College of Music, I also scored for feature/short films and video games while also interning for different type of composers and studios.
2. When you finished music school, what did you find most difficult to get your career started?
I would say that in a lot of schools, while you can get some amazing musical education, it is rare to have lessons that go through how to get gigs or how to network.
This is paired with the fact that in our competitive profession it is especially hard to get a job upon graduating from a school. 

In my case, I was so busy during my time at the Academy, on working hard and doing well in my classes, that I didn't really consider what will happen after graduating.
However, I have to give credit where it is due to Berklee which focuses a lot on what happens after school and they do their best to prepare you for the industry.
 Not only that, I was fortunate enough to receive a scholarship from Berklee after graduating with my masters which allowed me to move to Los Angeles.
3. What first steps would you recommend new composers to take to kickstart their career?
Ok so now the real fun starts. There are many things I wish people would have told me when I was just starting out, so I will try to summarize them to the 3 most important ones in my opinion.
A- NETWORK, NETWORK, NETWORK!
I think most heard at this point that it is important to network, but I still feel it is necessary to go over how I find it to be one of the MOST important things for a composer's career.
It does not matter if you are the world's greatest composer and Hans Zimmer would kill to be your assistant. If people don't know you in the industry there is no chance of you getting chosen for projects, simple as that.
B- Work very hard on your production/mixing skills.
These days, you'll have a much easier time selling 1 note that sounds great over a marvelous symphony with general midi sounds.
It might be unfair, but that's just how it is. Besides, a lot of projects won't be able to afford a live orchestra for your tracks anyway, so unless you want to pay for that orchestra out of your own pocket, getting good at creating mockups is a must.
C- Work hard but remain humble and pleasant.
I cannot stress enough how important it is not to have an ego in this profession.
You are here to deliver a product so if you think that your music is more important than the project you are working on, this profession is just not for you.
I know it seems obvious, but don't forget, while the industry can seem huge it really isn't. If you make a bad reputation for yourself, it will spread very quickly and people will not want to work with you, regardless of how good you might be.
4. How can we build our network, and create good relationships in the industry?
There are 2 types of networking, online and the face to face, and it is very important to work very hard on both of them.
For the online kind, start joining facebook groups, follow your favorite composers on Instagram. Don't be afraid to reach out and ask for advice. Really good starting points on Facebook for example, can be the groups – "Business Skills For Composers" or "Perspective:  a forum for film, tv, and media composers".
The second type, face to face, is quite harder to accomplish but it is also a lot more important and helpful in the long run. I know that a lot of us here are introverts but in this case it can't be helped and you will have to make an extra effort. Just imagine, who would you rather work with, someone you hung out with a couple of times and you know you get along with socially or someone you texted with for an hour?
Unfortunately there isn't really a secret to how to reach out to people but composers are very easy to reach (they have to be for their jobs), so contact them and offer to meetup. Try starting though with composers who you might know somehow, or you might have a common acquaintance.
5. Any tips you can share about getting projects as a composer?
Besides what I mentioned so far, I think it is very important to look and act like a professional.
It doesn't matter if you have barely composed for anything before and you are just starting out, it's all about confidence, so be confident, and if you can't then fake it. This doesn't mean to start being smug. Simply treat your work and yourself with respect.
Other things that will help you seem more professional is having a good looking website, always working hard on improving your portfolio and while this might be controversial, DON'T work for free.
I know it can seem normal if you have no experience to agree to work for free, but I'm only saying that you should always ask for some kind compensation, even a small one. Unless the creator you are working for is homeless, he can probably afford to pay you a nominal fee. This is very important in my opinion since it shows people that you respect your time and work, and so should they.
6. What is on your agenda now, any cool projects you are working on or planning to do?
Right now, I am simply loving my time in Los Angeles and I intend to stay for the foreseeable future.
I finished working on a feature called God of the Piano which just won "Best Feature Award" at the B3 festival in Frankfurt and it will premiere around mid-November in many areas around the world such as Los Angeles, England, Australia and many more.
I also just landed the Lead Composer position at ExNi Games for their game Descent into Madness, a dark and imaginative game with layered themes which seeks to pull the player in not just through the gameplay, but also through humor, surreal visuals, 3D-audio, and with its dark and gritty story driven by the philosophies of determinism and causality.
7. Thank you so much for sharing your insights Hillel, where can people find you online?
My pleasure! I can be easily found either on my website – https://www.hillelteplitzki.com/
Or on social media such as Facebook or Instagram.
PS. Free Downloads for You