Do you want a great sounding virtual acoustic guitar for your music? Well, unless you have a real guitar and the skills to use it well, this library might be just what you need.
THE OVERVIEW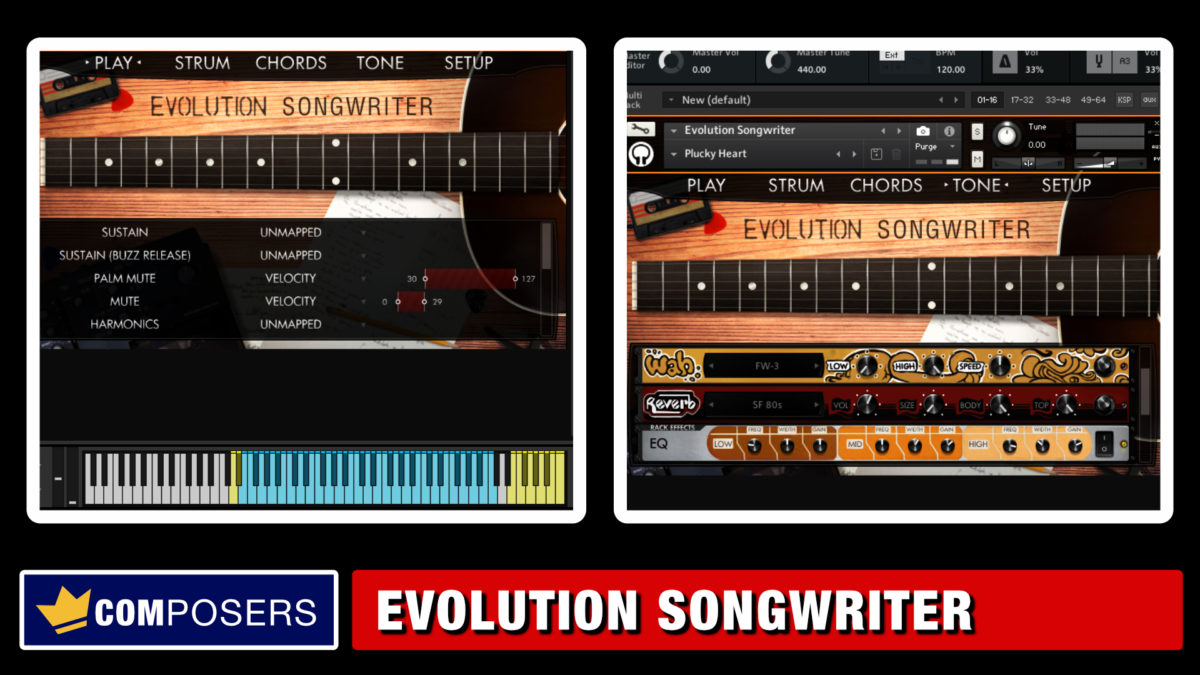 Evolution Songwriter is based on a Gibson J-45, a steel string acoustic guitar. It was inspired by classic artists like The Beatles. It has lots of character and personality, but is also very playable, even though you need to practice your performance skills on the MIDI keyboard to truly make it shine.
It comes with built in effects, adjustable pick position, and my favorite: a powerful mapping system that lets you set how you want to trigger articulations based on your input. Such as velocity, sustain pedal, MIDI CC and key switches.
Evolution Songwriter also comes with presets that changes the sound character and mappings automatically for you. Furthermore it has a strumming engine to let you program your own strumming patterns, or choose from the preset bank.
DEMO VIDEO

THE SOUND
The sound of this virtual guitar is very natural, and if you perform or program it well, it sounds very authentic. It really has that warm, organic and timeless character of the 60s and 70s songwriters.
THE UPSIDES
Very organic, natural and authentic sound
It's nice to have sound presets
The playability is amazing (if you have MIDI keyboard skills)
THE DOWNSIDES
The strumming engine is a bit clunky to program
I would have liked a bigger and more organised strumming pattern library
Palm mute strums are not pre-mapped keys in "Free Play Mode"
MY FINAL THOUGHTS
Evolution Songwriter is perfect for composers and producers that want a playable acoustic guitar to use instantly in your music productions.
If you have good MIDI performance skills, or MIDI programming skills, you will be able to get a very authentic sound that can even be upfront in the mix.
If you are only going to use it for backing tracks it is pretty much a plug and play feel. Super easy with pretty much instant good sound.
LEARN MORE
Learn more about Evolution Songwriter – Orange Tree Samples here. Get a full overview and specifications, listen to audio demos etc.
YOUR ACTION TIME
Have you Joined Professional Composers yet?
Professional Composers was created for Composers with High Goals & BIG Dreams. Composers like You. It is 100% Free to join, so what are you waiting for? =)
PS. I wish you good luck and great success on your professional journey in music.
Friendly regards,
Mikael "Mike" Baggström
Founder of Professional Composers
PS. Free Downloads for You