I had the chance to interview one of the successful members of Professional Composers (you can join for free here).
Her career as a composer have truly kickstarted, and she is on her way to big success, I'm sure of it! 😃
Hello Caroline-Jayne Gleave, we are honored to have you share your story and wisdom here on Professional Composers. 😃
1 – When did you start composing music seriously, and what's your story on how you became a composer in the first place?
I started taking music seriously about 2 years ago. I had no previous musical background and just jumped in at the deep end so to say. My story is mainly that I had music swirling around my head for years. I didn't know DAW's existed and contemplated getting an instrument to get the music out.
But, that just didn't seem 'adequate' as I wanted to write whole scores with multiple instruments. I was disheartened a bit as I didn't really know what to do until a friend of mine said he dabbled in making music with software. I was most intrigued by this. He showed me the very basics of FL Studio and my life changed.
Finally, I could write the music I'd always wanted to. From day one I was composing whole orchestrations (albeit, a little crude), but I never stopped and never looked back. 😃
2 – Why do you believe you made such fast progress, when so many new composers fail to get into the industry?
Interesting question, I honestly have no idea. I worked solidly for two years to get where I am. That means composing almost every waking hour (with breaks). I networked a lot and sent work off to many publishers. But, networking from a very early stage, like just a week after I started composing, I think is the key to it. 😃 Also, a lot of self promotion.
3 – What's in the horizon for you? What's next, any projects or goals you can share with us?
My drive is to just progress as a composer and whatever jobs I land will be an added bonus. Monetary gain is not at the forefront for me, I get my motivation from sharing a part of my soul with others. If I can have a listener feel what I feel just for a split second, then I have achieved my goal. But, from a more practical viewpoint. I really just hope to get more out there and recognised.😃
I mean placements are nice and certainly worth pursuing just for that reward of having people hear my music more mainstream.
4 – Finally, is there anything you want to add? Perhaps some tips or motivation for your fellow composers?
The best tip I can give is that there is nothing to hold you back. If you want to create music and you feel it inside you, there is no excuse not to try. You don't need to play an instrument or know music theory. I don't know how to play any instruments, not even keyboard, yet I find a way through manually mouse clicking each note.
Some say this is inefficient, but it really isn't. You do best with what you know well. I don't know music theory either. If music is part of you it will find a way regardless of experience. So just go for it! 😃
Another tip is to start your networking as soon as possible, then again it is never too late either to do this.
5 – Oh, and please share your portfolio, promote your music, or anything. It's your time to shine in the spotlight here! =)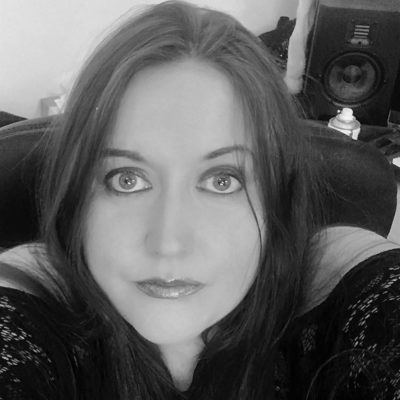 I don't have a website yet, but I can share my YouTube.😃
I'm always looking for new subscribers, I might actually reach 500 soon 😃 Hehe.
Listen to Caroline-Jayne Gleave on YouTube.
PS. Free Downloads for You