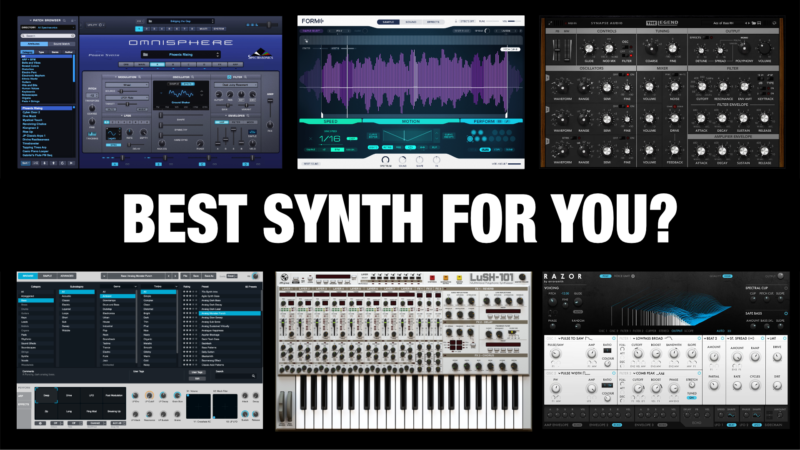 Which are the Best Synth VST Plugins for you? Let me share my top recommendations. =)
Hello, Mike here, and I am a composer.
Just. Like. You. 😃
Synthesizers are simply amazing. Why? Because you have so much control and power to design and shape new sounds to use in your music.
How to Choose the best Synth VST Plugins?
There are several factors to consider when choosing a VST synth for your composer toolkit. However, there is no such thing as one synth to rule them all.
Every synth is is different. They all have a different sound, a different workflow, interface, features etc. That's why we like to have many of them for variation, right? =)
Here is a list of the things I mainly consider when trying synth plugins:
The Synthesis Method (Additive, Subtractive, FM, Wavetable etc.)
The Synth Engine (Features and control of the Oscillators & Wavetables)
The Sound Quality (The Raw Sound, The Filters, Effects etc.)
The Preset System (A good structure & quality of presets)
The User Interface (Nice Design, Clear View Modes, Scalable etc.)
The Performance (CPU and RAM usage)
The Ease of Use (Layout, Features, Workflow Speed)
The Inspiration Factor (Very subjective, but so important)
1. Omnisphere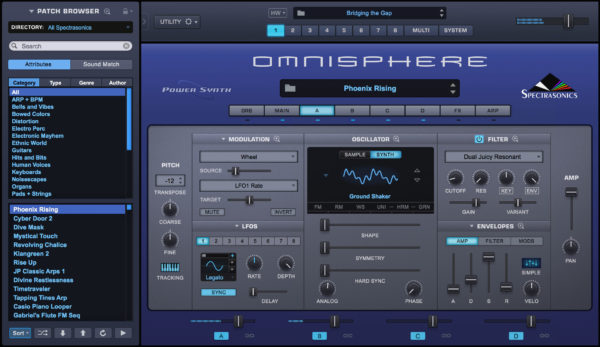 Omnisphere by Spectrasonics is a powerhouse of sounds and features. It is a wonderful mix of samples and synthesis in one single engine.
I have used Omnisphere since it was first released back in 2008, and it is by far my favorite synth and sound design engine of all time. I use it in every single music composition and production.
It comes with an incredibly vast preset library, with a great category and search system to find just the sound you want.
But it is also a super powerful sound design and creation tool, with amazing modulation and routing possibilities, customizable effect racks per part etc.
It has a stack mode feature for layering and building larger than life sounds, or crazy experimentations, whatever you want basically.
How I use Omnisphere as a Composer
Omnisphere is my number one choice for sound design, instrument and preset building. I find that Omnisphere excels at organic, deep and rich sounds like: pads, strings, atmospheric sounds etc.
Omnisphere – My Top List
The Sound Quality
The sound quality is astounding with a great depth and pristine clarity.
The Sound Design Tools
The waveform effects, deep modulation, effect rack, layer modes etc.
The Preset System
Seriously the best preset system I ever used. Lots of categories and sub-categories, but also amazing search features like "Sound Lock" and "Sound Match".
2. The Legend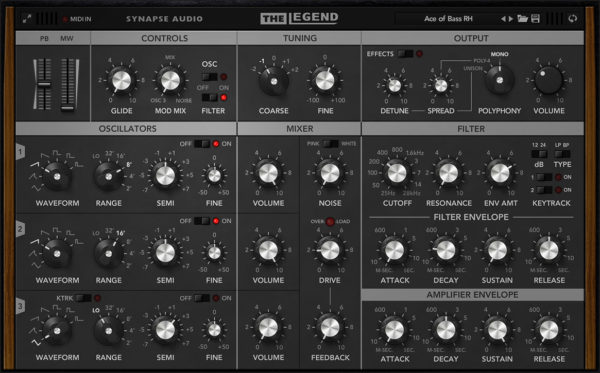 The Legend by Synapse Audio is based on the classic Minimoog Model D vintage analog synthesizer. Subtractive synthesis with analog oscillators and filters is what creates the warm, rich sound.
It comes with a categorized preset bank, but it honestly so easy to use that you can dive in and create your own sounds quickly.
The clear layout of the user interface make it both inspiring and fast to work with, and it even has a backside that you can flip to with a button to access even more deep features.
Some of the advanced features include: oscillator analog drift level, filter characteristics, amp saturation, and you can even switch between the early and late revision of the Minimoog.
The sound quality amazing, with a rich and warm tone, an 8x oversampling engine and accurate circuit simulation. Seriously, they nailed the Minimoog character.
You can switch between: unison, mono and 4-part polyphonic mode. And you can route performance controls like velocity and aftertouch to your preference.
How I use The Legend as a Composer
Any time I need that warm, vintage analog sound of the classic Moog synth, I go to this synth plugin. They have truly captured the essence of the Minimoog Model D.
In my opinion The Legend excels in the low-end, especially with that classic filter. That's mainly what I use it for, as well as warm, soft sounds for arpeggios, ostinatos, plucks etc.
The Legend – My Top List
The Warm Deep Sound
It has that classic analog warm and deep sound, which I love for deep basses, background synth parts in cinematic music etc.
The User Interface
I love the look of this interface, and it is scalable. It even has extra deep features if you flip it to the backside.
The Ease of Use
A classic analog subtractive synth is probably the easiest to dive into and sculpt new sounds in. Especially with the very clear layout of each synth section.
3. LUSH-101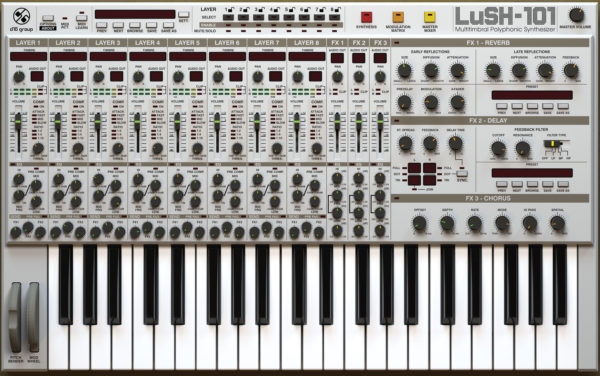 LUSH-101 is inspired by the classic Roland SH-101 launched in 1982. Which was easy to use, slider-focused and had a great sound out of the box.
The interface may be slightly daunting at first glance since there is so much you can do in here. But basically it is divided in 3 main sections: Synthesis, Modulation and the Mixer.
It is very layer-based, with up to 8 layers of sounds that can create very rich and powerful sounds, as long as your computer and CPU can keep up with it.
It comes with a range of insert effects (as well as a couple of send effects), plus a very powerful modulation matrix. And the arpeggiator/gate module is one of the most customizable out there.
How I use LUSH-101 as a Composer
LUSH-101 is amazing for layered and complex sounds in my opinion. At least I mainly use it for rich, layered sounds. Sometimes I use it for unusual combinations such as a deep bass with a stuttering low-pad on it.
LUSH-101 – My Top List
The Complexity
The layered approach, modulation matrix and mixer page creates an environment that is perfect for creating complex, rich sounds.
The Arpeggiator/Gate
Very advanced and customizable arp/gate module, especially in combination with the layering of parts.
The Slider Approach
I don't know why, but I find the vast amounts of sliders very inspiring to use for sound design and creation compared to the usual knobs every synth has.
4. Razor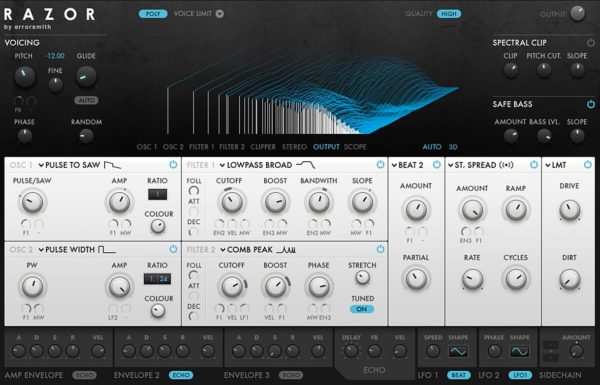 Razor by Native Instruments is an additive synthesis, with a great visual interface that inspires you to dive in and sculpt new sounds.
As all additive synthesizers Razor is great for sharp, crisp sounds full of details. Which makes it good for sounds that will stand out in the mix, like hooks, riffs, sharp basses etc.
The main oscillator and synthesis section is actually very easy to use, and the layout is simple and effective.
The layout is based on modules. For example: you can switch out the oscillator modules as you wish, choose from a range of filter modules, and even effect modules.
How I use Razor as a Composer
I mainly use Razor when I want a crisp, sharp and up-front sound with a digital character. I find that it excels at crazy sound design & sound effects creation. Manipulating and twisting sounds with all the modules and automation options.
Keyscape – My Top List
The Module Approach
Having each main section of the synthesizer based on switchable modules is not only super powerful, but really inspiring in my opinion.
The Clean Interface
A sleek look with a minimal color scheme and clear focus on the main features.
The Visual Waveform
Having the sounds visually displayed as you play them might be a gimmick, but at least I find it inspiring as I design my sounds.
5. Phoscyon
Phoscyon by D16 Group is based on one of the most famous synthesizers in history. The Roland TB-303 bass line synthesizer, which is practically the grandfather of all electronic music.
It includes the classic way of creating patterns with the on-board step sequencer, but it also has an option to play it like a regular VST synth right from the sequencer in your DAW (which is how I personally use it).
Even with its simplicity, it still is unbeatable for the type of sound you can create. Which is that accented, raw, saturated sound. Especially with the on-board distortion unit.
How I use Phoscyon as a Composer
If I need a driving synth for pulses, accented patterns with lots of character and presence, this is one of my go-to synths. This synth truly excels when automating the cut-off and resonance in the filter, as well as careful use slides and accents.
Phoscyon – My Top List
The Raw Sound
Angry, twisted and mean.
The Drive & Accents
This is what it truly does best, driving synth patterns with character.
The Performance
Both easy to use, and very light on the CPU.
6. Form
Form by Native Instruments is synthesizer based on "sample manipulation". In fact, you can simply drag and drop a sample straight into Form and start sculpting and designing it into the sound you want.
I personally find Form really fun and inspiring to use because of its unique approach to sample manipulation and modulation. Especially when layering sounds in the multimode setting.
How I use Form as a Composer
Form is my go to synth for creative sound design of samples, especially from my voice or real world recorded sounds I made myself. Whenever I want organic sounds full of depth and especially movement, I have the Form VST synth as one of my top choices.
It is very focused on movement and modulation. Simply click a parameter to assign it to a movement source, which can be one of the LFO's, envelopes, the motion engine, or even CC input.
In the perform module you can create, try and switch between performance presets, which basically are versions of the sound preset. In multimode you can even use for stacking the layers.
Form – My Top List
The Motion Engine
Adding movement and motion is a wonderful way to add depth to sounds, and Form gives you the ability to shape the motion with presets, and manual editing, choose speed, timing etc.
The Drag & Drop Samples
Super fun and creative way to start making your own organic sounds from real recordings.
The Oscillator Effects
Including an additive oscillator, FM, deformation & shaper effects.
7. Alchemy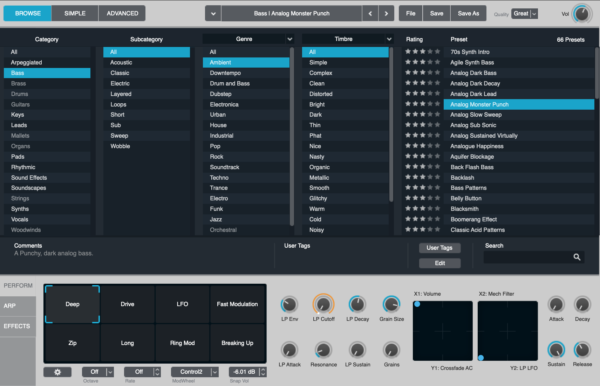 Alchemy is synth native to Logic Pro X, so if you are not a Logic user I'm afraid you are missing out on this one.
In the default browse view, the preset system takes up most of the interface. And to be honest, the greatest strength of Alchemy is the sound preset system with a great range of sounds neatly organized in categories with sub-categories and tags.
Below that is the most unique feature, which is the sound variation matrix, where you can simply drag around the box to mix and blend the variations.
It has a scalable GUI which I love on my retina screen. It also has a quality setting to optimize for CPU until you are ready to export your track (remember to set it to high quality before you do).
In the advanced mode you can dive into each layer of the sound, change waveforms, and use advanced features like additive synthesis, granular mode, formant control etc.
How I use Alchemy as a Composer
Alchemy is my favorite synth for fast preset browsing, as well as quickly and easily finding variations on each sound with the perform matrix. I especially like it for unique bass sounds, rich pads, and atmospheric soundscapes.
Alchemy – My Top List
The Preset System
The great structure and categorization of all presets is only rivaled by Omnisphere in my opinion.
The Variation Matrix
Which gives you instant and easy tweak-ability on every preset.
The Range of Sounds
1000s of presets and all with variations creates a very big sound palette to choose from.
Summary: My favorite VST Synth Plugins
Omnisphere
The Legend
LUSH-101
Razor
Phoscyon
Form
Alchemy
Choose your Favorite VST Synths
Go ahead and dive into the world of synthesizers to find just the right VST Synths for your composer and producer toolbox! One synth will never be enough, that much I can tell you, but you have to choose which ones will be best for you. =)
PS. Free Downloads for You