Are you looking for a Great Phaser VST Plugin for your music productions? Check out my favorite Phaser Plugins below.
Hello Composers, Mike here, and I have been looking for a good phaser plugin that sounds great, is easy to use, and doesn't consume too much CPU power. Here's the top phaser plugins I ended up with from my research.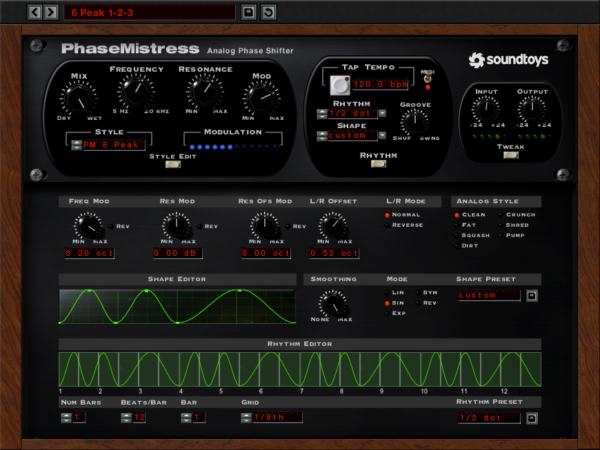 This seems to be one of the go-to phasers for many music professionals, and for good reason. It looks good, it feels good to work with, and most importantly: It sounds amazing! =)
There are lots of presets and phaser styles to choose from, and there's even a tap tempo feature which I really love.
You can even add and shape the rhythm of the phaser, from shuffle to full swing. And of course you can tempo sync it to your sequencer.
This phaser is all about modulation and customization of the tone and movement. I find that it is incredibly well suited for sound design for this very reason. But of course you can use it as a simple phaser in any style of music production you work on.

Inspired after a 70s retro phaser effect, this plugin can truly bring movement and stereo depth to your synthesizers, or any instrument you add it to.
Ever wanted to create those rich synth sounds of Jean-Michel Jarre? Well, now you can! =)
Two big LFO's that can run free, or synced to your sequencer. You can even change the waveform of the LFO's. Using the two LFO's simultaneously brings a new dimension to this phaser. You can have different speeds and depth per LFO.
Finally, you can control the phaser centre frequency, stereo phase, and feedback. And there's dry/wet mix knob.
Not my favorite GUI ever to be honest, but the sound is really good. You can even create turn mono into stereo soundscapes.
It's also NKS-ready meaning you can control it from Komplete Kontrol or Maschine from Native Instruments.
Subtle movement, to crazy warping, or simply whoosh and swoosh like they did in the 80s! =)

U-he are probably most known for their synthesizer VST plugins. But they do incredibly high quality effects too!
One of them is the Uhbik bundle of effects, where Uhbik-P is the phaser part of the bundle.
It comes with nice presets, and an interface that guides you with big buttons for the most important features, and smaller ones for the details.
This is a truly versatile phaser plugin, which can go from deep and warm sounds, to a metal monster, using up 42 all-pass filters.
A nice feature is "bass sanctuary", which is a highpass filter that eliminates bass resonances when using the phaser.
5. Artsacoustic – Big Rock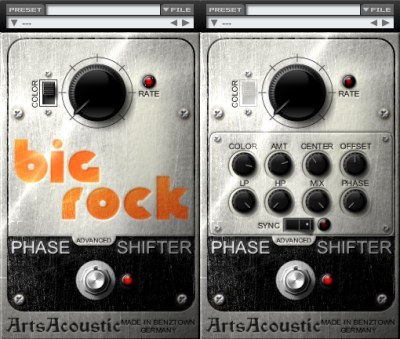 The wild card on this list is Big Rock from Artsacoustic. It is modeled after a famous vintage phaser pedal.
This makes it the least versatile phaser on my list, but one of the most specific. If you are looking for this magic sound of this particular phaser stomp box that was released in 1974…well you are in luck! =)
There's really not much to say of this plugin, because it is so simple to use. Adjust the rate, the color, add some filters and mix to taste. That's basically it. The sound? Well, it sure has that vintage vibe. Oh, and as a bonus: it has very little CPU usage.
Summary: Best Phaser VST Plugins
1. Soundtoys – PhaseMistress
2. D16 Group – Fazortan 2
3. Softube – Fixed Phaser
4. U-he – Uhbik-P
5. Artsacoustic – Big Rock
PS. All opinions are my own, but I hope this post has educated, inspired and motivated you to dive deeper and find the perfect phaser plugin for you! =)
PS. Free Downloads for You