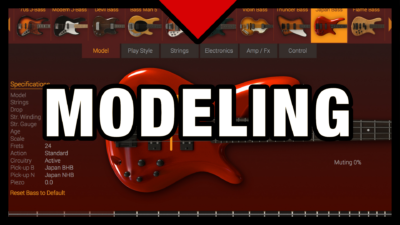 Are you looking for the most amazing playability, ease of use and expressive performance for your software instruments?
Software instruments purely based on 1000s of recorded samples of notes, articulations, dynamics etc. have been around for a long time. But with physical modeling and acoustic modeling you can get incredible control, amazing playability, and basically shape your performances like a real instrument. Let's check out the top list:

Best Modeled Instrument Plugins
Some of these are 100% true modeling (algorithmic based), and some are a mix of samples with algorithms and scripts that make them truly playable like a real instrument. But what aspects should you consider when looking for a modeled instrument?
Considerations before you buy
Sound Quality and Tone (Your subjective impression)
Playability and Feeling (Again, subjective but super important)
Response to Dynamics (Both with CC and with velocity)
Response to Fast Repetitions (variation on each note)
Expressive Options (Vibrato, Slides, Bends, Flutter etc.)
Articulations Possible (The more the merrier)
CPU/RAM (Overall Performance)
PS. Free Downloads for You