Which are the Best Distortion Plugins to add grit, dirt, analog warmth and saturation to your sounds? Let me share my top recommendations. =)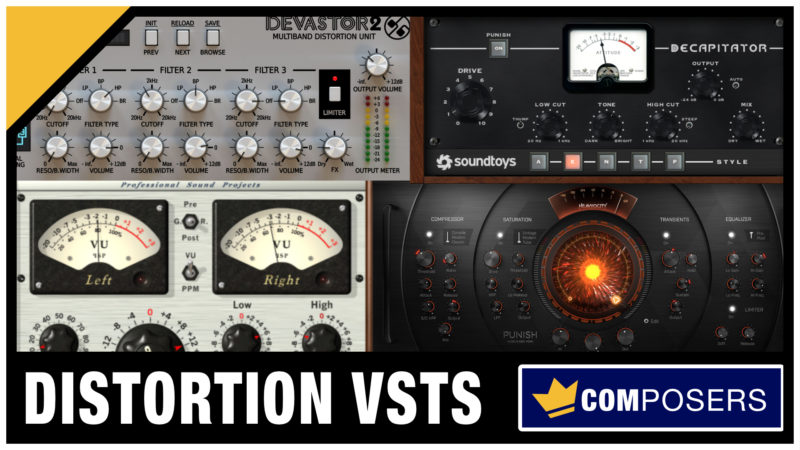 Hello, Mike here, and I am a composer.
Just. Like. You. 
I love using distortion and saturation plugins to add grit, warmth and character to my sounds. I'm sure you do to, since you are reading this. =)
Here's my complete list of recommended distortion plugins:
My 10 Top Distortion Plugins
Saturation Knob
Redoptor
Faturator
Saturn
Decapitator
Vintagewarmer
Devastor 2
Trash 2
Ohmicide
Punish Knob
1. Saturation Knob
Simplicity is both practical and beautiful. And this plugin is as simple as it gets. One single knob to dial in the amount of distortion, and a switch to choose if you want to filter out the distortion in the high frequencies or low frequencies.
At its lowest settings it adds that warm analog character, but driving it hard will push some dirty distortion into your sound. It's also very low on CPU usage, and the sound and simplicity makes this one of my personal favorites.
Finally, it is free. No, really. It actually is completely free to download from the Softube website! =)
2. Redoptor
Redoptor is a high quality Vintage Tube Distortion emulator. And who doesn't love the sound of a tube amp that is driven to add that warm analog character?
But it also has some extra features to shape the sound. Like filters, EQ, brightness and tone controls, and even a cross fade between tube and transistor distortion.
It also comes with a nice preset bank with a good category system. The price for this plugin is very low, especially considering the great sound it can add to any instrument you put it on. I especially love it on low-end sounds like basses and low riff type sounds.

3. Faturator
This distortion plugin looks a bit strange, but packs a nice punch when it comes to the sound. The interface make me think of the health bars in an old arcade game from the early 90s, but it is easy to use and understand.
A great thing about this plugin is that it keeps the dynamics of your sound, which means you don't need to pull down the levels a lot afterwards like you usually need to do on most distortion plugins.
It even has the option to add stereo width to the sound, which is unusual for a distortion plugin, but nevertheless can be useful.
4. Saturn
This is one of the most feature rich distortion plugins on my list. You can do anything from subtle, clean and warm tube or tape saturation, to the crazy multi-band guitar amp effects, and more.
But the most powerful thing about Saturn is the extensive modulation options. Apply some X/Y modulation or LFO's to the gain, dynamics or cross-over frequencies to make your sound come alive!
5. Decapitator
This has been one of the industry standard distortion plugins for years. And for good reasons! It has a simple and beautiful interface that is quick to work with. But more importantly, the sound of all 5 models of distortion you can choose from is amazing!
Other than those 5 models, you don't really have much more to dial in. Simply choose the amount of drive, then adjust the low-cut and high-cut filters and tone control.
One of my favorite features has to be the punish button. Click it, and you'll turn the soft and warm saturation into screaming dirty distortion. Awesome!
6. Vintagewarmer
This is another classic saturation plugin that can work great to warm up the sound of your drums, bass or vocals. It can even be used for both soft-knee compression and brick-wall limiting.
It can work particularly well on the master stereo bus, and in mastering applications. In fact, it comes in different versions, and one of the versions is specifically recommended for mastering.
7. Devastor 2
This is actually a multi band distortion effect. It has several features that stand out:  A single knob to tame the input dynamics, diode-clipper distortion, three multi-mode filter sections and an optional output limiter.
I have found it to be great for anything from sharp 303 bass lines, to adding subtle warmth to guitars or bass. Especially since you can control the input dynamics with one single knob.
Another amazing feature is the signal routing section. This is very unusual in effect units, and mostly seen in synthesizers. But changing the routing of the audio signal can have a drastic difference on the final sound, so make sure you try it out.
8. Trash 2
Trash 2 can do a lot to any sound you throw at it. This is because you have more than a distortion module in this plugin. The modules include: Trash (distortion), Filter, Convolve (space), Multband Dynamics, Delay.
It comes with over 60 distortion algorithms. And you can even design your own unique distortion with the included waveshaper.
9. Ohmicide
This futuristic looking multi-band distortion plugin also comes with compression, EQs and filters. It has 4 frequency bands you can control, and more than 80 different distortion models to choose from.
A very cool feature is that you can program preset changes with MIDI, and even control the morphing speed between them.
10. Punish Knob
Now this is one of my personal favorites, even though it is technically not focused on distortion only. It actually is an all-in-one plugin that combines modules in a signal-chain to mangle, distort and shape your sounds.
It has a compressor module, a saturation module (with 3 modes), a transient shaper module, and finally an EQ module (switchable between pre and post in the chain). All in one awesome looking user interface, that is easy to just jump into and use.
This plugin can be used in any genre or style whenever you need to really mangle your sound. It works especially great for hard driven sounds like epic trailer music, super fat hip hop beats, or heavy guitar driven music.
Summary: 10 Best Distortion Plugins
Your Time to Take Action!
If you don't have at least one or two distortion plugins in your arsenal as a composer and producer, you are really missing out. So I recommend that you dive deeper into these options, and choose which one(s) you like the most. Good luck and have fun with distortion! =)
PS. Free Downloads for You