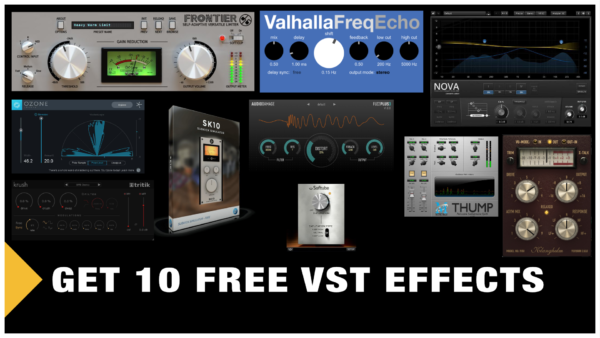 Hello Composers! =)
Mike here, and I want to share my Top 10 list of Free VST Effects with you.
There are of course 1000's of free vst plugins available, but most of them are…well…kind of bad. These vst effect plugins however, I have actually used personally in my music production workflow.
In the end of this blog post you can find links to every Free VST Effect Plugin where you can learn more about them, and find the download link.
1. Softube Saturation Knob (Saturation)
This is in fact one of my favorite saturation plugins, period. Even though I have several paid distortion and saturation plugins, the Saturation Knob simply works like a charm on everything I throw it on.
Especially for adding that subtle analog drive and warmth. And it has remarkably low CPU usage which is a bonus.
2. D16 Frontier (Adaptive Limiter)
Big knobs, great interface, easy to use, and does its job well. What more could you ask for in a Limiter Plugin?
It even has that lovely graphical VU gain reduction meter in the middle.
3. Ozone Imager (Stereo Imager)
Stereo widening is a very important effect to make your tracks sound deeper, richer and open up the sound stage. And Ozone Imager is one of the simplest and best sounding stereo widening effects I've tried so far.
4. Klanghelm IVGI (Saturation)
This is another good free saturation effect plugin that can do anything from soft and subtle to driving distortion.
For stereo tracks it even has modeled crosstalk behavior that adds another dynamic dimension.
5. WavesFactory SK10 (Sub Kick simulator)
This plugin was made to add a low sub bass to for example kick drums.
But I have been using it to add extra low end in my sound design creations, like epic booms and impacts etc.
6. Tokyo Dawn Records NOVA (Dynamic EQ)
A very nice sounding and looking dynamic EQ plugin effect, with drag and drop features and a very easy to use workflow.
7. Tritik Krush (Bitcrusher)
Bitcrusher and downsampler, which are very fun effects to make your sounds dirty, retro, or all in all…mangled!
8. Valhalla Freq Echo (Frequency Shifter)
A combined frequency shifter with echo, makes for really cool delay effects, going all the way to crazy if you wish.
9. Audiodamage FuzzPlus 3 (Vintage Fuzz)
Modeled after a vintage fuzz pedal, this kind of distortion is not subtle, it's mad…and of course amazing when you need this kind of sound.
10. MH Thump (Low-End Generator)
Want to add low end to your drums, beef of your bass, or simply have a really nice sound design tool for deep low end. Then MH Thump is for you.
Get these Free VST Plugins here
Softube Saturation Knob (Saturation)
D16 Frontier (Adaptive Limiter)
Ozone Imager (Stereo Imager)
Klanghelm IVGI (Saturation & distortion)
WavesFactory SK10 (Sub Kick simulator)
Tokyo Dawn Records NOVA (Dynamic EQ)
Tritik Krush (Bitcrusher)
Valhalla Freq Echo (Frequency Shifter)
Audiodamage FuzzPlus 3 (Vintage Fuzz)
MH Thump (Low-End Generator)
Have fun with these amazing VST Effect Plugins
My name is Mike, and I wish you great success on your professional journey in music! =)
PS. Free Downloads for You