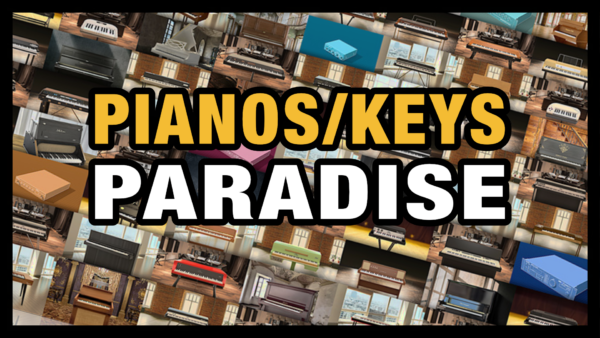 If you love pianos and keyboards of all shapes, sizes, tone colors and variations…then you will feel like you found paradise with this huge collection. This is UVI Keysuite Bundle.
I have to confess that I can not get enough piano and keyboard VST plugins and sample libraries. The reason is that every instrument itself is unique, but also how it was recorded, in what room, with what equipment, various production techniques etc.
So regardless if it is the exact same piano model, you will end up with a different tone and performance feeling in each and every one.
What is UVI Keysuite Bundle?
You actually get 4 different products with this bundle. 3 of them focuses on different types of keyboards: acoustic, digital and electric. And the 4th product is a premium sampled "Austrian Grand". In total you get 94 deep sampled keyboard instruments: from acoustic grands to analog keyboards and digital keys.
There are so many instruments in here that I can not even go through all of them, so I will leave a link to the product page where you can check out each and everyone for yourself: UVI Keysuite Bundle.
But what I can do, is give you a list of the types of keyboards you get:
5 Grand Pianos
6 Upright Pianos
4 Plucked Strings
5 Metallophones
14 Tines
9 Analog Keys
10 Electro-Acoustic Keys
10 Bass Keys
6 Reeds
7 Electric Pianos
7 Clavs
10 Digital Keys
The Premium Austrian Grand
UVI Keysuite – Top List
The amount of Instruments and Presets is stunning.
The User Interface of all these instruments is so visually clean, beautiful and inspiring.
The Browser is so organized that going through presets/instruments is so fast.
You can Quickly Customize the Tone with microphone settings, and effects.
Automation of Parameters is so simple and straightforward.
My Final Thoughts
Whatever piano or keyboard sound you need, this collection will probably have something in it you can use as a great starting point. And then you can use shape and polish it to suit your music composition perfectly. Or even go crazy with added automation, modulation or special effects.
The inspiring design, great preset organization, and features in the different pages of the interface, makes UVI Keysuite Bundle so incredibly fun to use. I found myself playing this for several hours just from the pure joy and exploration! =)
PS. Free Downloads for You