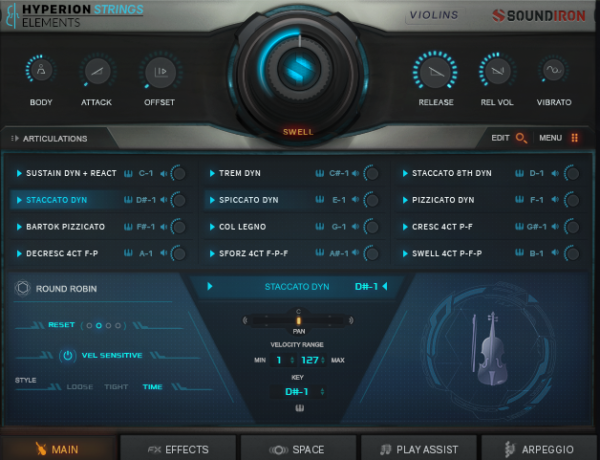 Hello Composers, Mike here! =)
And today I will share my thoughts on Hyperion Strings Elements by Soundiron. It is an all-in-on string package with a
My Overall Impression: Hyperion Strings Elements is an all-in-one orchestral strings package which is super easy to dive into, mix your sounds, and honestly very inspiring to use due to the vast sound design capabilities. I found myself creating lots of different ambiences, string pads, distant plucks,  and shimmering tremolos. The effects tab and position mixer are addictive. All of this for an incredibly value in my opinion, compared to many other string libraries on the market.
The Sound
The library is based on 8 Violins, 6 Violas, 5 Cellos and 4 Double Basses, which means more of a chamber strings sound.  The sound without using any extra reverb, is fairly dry and sharp. But you can choose to use their build in space tab with convolution reverb and a mixer to position the instruments in a left/right vs front/back stage. Here's a walkthrough video by Soundiron that demonstrates the sounds of Hyperion Strings Elements in action:
My Favorite Things
1. The Space Engine
Being able to completely position the instruments in an X/Y mixer for front/back vs left/right stage makes it possible to for example create sharp and focused ostinatos, or ambient and shimmering string pad textures. You can do this manually, or use one of the presets you get inside the tab.
2. The Effects
I love sound design, and shaping and twisting sounds to suit my creative ideas. So the effects page on Hyperion Strings Elements was a very pleasant surprise. Because even if it's based on standard effects like filter, compressor and equalizer, it does have the power to totally transform your overall sound. Simply browse through the effect presets, and you'll hear a remarkable difference.
3. The Arpeggiator
I don't usually use arpeggiators in plugins, since I prefer to write all notes in the sequencer. But I found myself having lots of fun with the arpeggiator in Hyperion Strings, because you can do some really nice things with it. Such as setting it to thrill mode, and get instant tension. Or creating anything from classic strings runs, to creative run effects. Then you could go into play assist to lock it to a certain scale, and you have a great runs creator.
Mike's Final Thoughts
I own lots of Orchestral Strings VST plugins and libraries. So how will Hyperion Strings Elements fit into my workflow and sound palette? Well, after testing out all the sounds and features, I am suspecting this will be my new go-to string library for sound design and processed strings. Anything from ambient string carpets and pads, to twisted pluck sounds.
The very sound design capabilities alone makes this product stand out. But also the runs and arpeggio module will most certainly come in handy. Or why not in combination? For example: using a totally mangled col legno sound with the arpeggio engine to create a magical and unreal run effect. I just tried it, it was awesome! 😎
Learn More
Do you want to learn more about Hyperion Strings Elements, and find out if this would be a great addition to your music composer tool box?
Learn More about this Product here
PS. Free Downloads for You