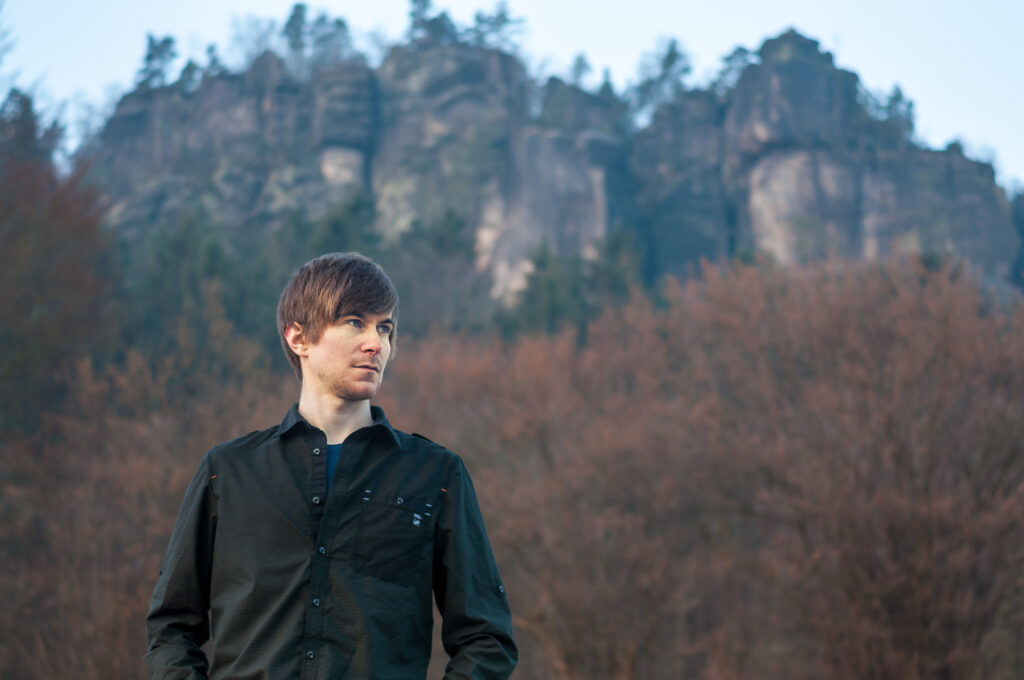 Hello Composers, Mike here! =)
You as a composer, should really try to learn more about storytelling in the visual arts. Since it will enhance your understanding of how your music stories will work with the visual stories.
How are you today? I have the great opportunity to share an interview I did with Erik Ret (in the picture), who is both a composer and a visual storyteller creating amazing footage to go with his music compositions.
In this interview, Erik will give you tips and insights in the art of visual storytelling as it relates to your music compositions. Let's dive in! =)
First: Listen to (and watch) this music composition he made:
1. Hello Erik, I am amazed by the way you use visuals with your music. How do you create these rich media productions?
There are many different aspects that need to go hand in hand: the visuals, the story, the sound effects and of course the music. At the beginning there's a Fantasy scenario I want to cover.
Planning is quite important to stay on the right track, so I'd take notes about different aspects like mood and sounds, to make the video as immersive as possible. Whatever inspires me goes into it.
The majority of the work is then done in the 3D gaming engine Unreal Engine 4. I use 3D assets from different sources to build the map, mainly along the plan I made, but I often bring in additional ideas from immediate inspiration.
In order to make a believable world it needs a lot of details like props, clutter on the floor, irregularities on the walls.
After having the lighting done I animate a camera flying through the level and render the result.
For Obscura that took around 100 hours. The music I scored to the rendered video, one Cubase project for the whole 62 minutes.
I tried to focus on distinct characters for each of the scenes, especially for the three main parts.
The dungeon would get a brutal, dramatic and "tangible", orchestral sound. The cavern is primarily made out of long, abstract noisescapes like the shape of the walls.
In the final tomb complex I was focusing on more "creepy" sounds. Tonal, haunting eerie pads with sporadic human voice clusters.
Though I was working with some slight ups and downs (like the sting in the dungeon stairwell), I tried to keep it as ambient as possible, to not step from underscore to action score.
Afterwards I added sound effects for atmosphere using mixing techniques to put it into perspective (long reverbs, early reflections and EQ to create the feeling of depth and creepy sounds coming from further away).
The music and audio aspect took another 100 hours. The workload for this kind of media is quite high, but you end up with something totally unique.
In Summer this year I'll have the next visual project ready – a medieval fantasy village & town scenario called "Hegelburg". It's still a work in progress but slowly starts to take shape.
2. Do you know any places where composers can get ambient video footage to use as background for their music on YouTube?
A website I can recommend is videohive.net. They have a lot of different video resources for reasonable prices. Interesting there is not only the stock footage, but also Adobe After Effects templates.
If you learn the basics of this video compositing software you are able to customize the templates to your needs for interesting animations or amazing slideshows without much effort and costs. That was my go-to technique before I started with Unreal Engine.
3. How do you think as a visual storyteller, to create the story, ambience and scenes to work for your music?
I'm first thinking of different main aspects of the scenario to be covered, like "chapters". What's distinguishing them? How can they be separated both visually and musically? That's what I plan on paper. There needs to be a mood for every part, and, overall, a slight rise of tension level.
In the same time, I'm thinking about a roughly drafted story. What happened here, when, and why? You don't have to make it obvious (leave it to the watcher's imagination, that's a powerful tool), but it helps a lot to make it look and feel believable. Just creating many little back stories for each individual scene. That makes it interesting and keeps viewers engaged.
4. How do you come up with a theme and title for your visual music videos?
A lot of my recent music is inspired by computer games like "The Elder Scrolls: Skyrim" or "The Witcher". I wanted to make a soundtrack for a game myself, but as I didn't have a job for that I thought why not just creating different scenarios like exploration, dungeons etc. and compose pieces of a score for that.
That was the initial spark. "Natura" was the first long theme video, focusing on exploration. The music was good, but the animation I created with Adobe After Effects left me with the impression that I could have done more visually. For my next project I wanted more immersion.
I stumbled over Unreal Engine 4. Originally made for creating 3D games, it provided all the tools I'd need when I'd get a couple of premade assets from the marketplace of the platform.
Things escalated quickly from "a still scene with some little things moving, like torch fire or slow fog" to "building a whole level for a 1 hour walkthrough". Eventually I spent more time on building this thing than initially planned, but it was fun and way worth it.
Now in the making is Hegelburg, the village & town setting. I may make another exploration one with proper visuals, battle music is also on my list somewhere. We'll see how it goes.
For the title there's no real scheme I'd say. I'm looking for words that sound a bit mysterious, create the right association without hinting in a wrong direction or some already existing content. 'Obscura' derives from "being hidden", so I considered it a good fit.
5. Anything else you want to say to your fellow composers, words of wisdom and motivation perhaps?
I think one of the most important aspects is to find your own niche. We all want to be Hans Zimmer but that doesn't work. Be original, try stuff! Go the extra mile everybody else skips.
On another note, quantity matters on social media nowadays. Make quality content, but keep in mind that it takes a "critical mass" of content over time to appear on the radar of the algorithms on YouTube, SoundCloud and alike. There's a sweet spot between quality and quantity.
And last but not least: Keep going! Be practical and choose a different path if one doesn't work, but refuse to give up. Success is what happens to those who are persistent. Hope that helps!
6. What are your goals for your career in music?
My ultimate goal is to make a humble living out of music. I'm producing for more than 12 years already, for the most time I was roaming through Trance and EDM.
Two years ago I decided to make it all more serious and consistent with the perspective of doing it full time within the next 10 years. And with it came the switch to orchestral music for which I always had an affinity, even within EDM.
I'm not so much aiming at being a composer for hire though I'd love to make the score for a computer game someday.
At the moment I'm building my career by creating music for a community using revenue from direct sales with Bandcamp, streaming on Spotify, ad revenue from YouTube and crowdfunding on Patreon. The artistic way basically. It's still a long way to go, but I see progress and I love what I do.
7. What's your website, social media etc?
YouTube: https://www.youtube.com/c/askiimusic
Facebook: https://www.facebook.com/askiiofficial
Bandcamp: https://askii.bandcamp.com/
Spotify: https://open.spotify.com/artist/4NLZReAYD7sht8YtA2Sg8K
Website: https://www.askiimusic.com/
Thank you very much for this interview, Mike!
PS. Free Downloads for You