How can you make money in music: from your skills, knowledge and experience?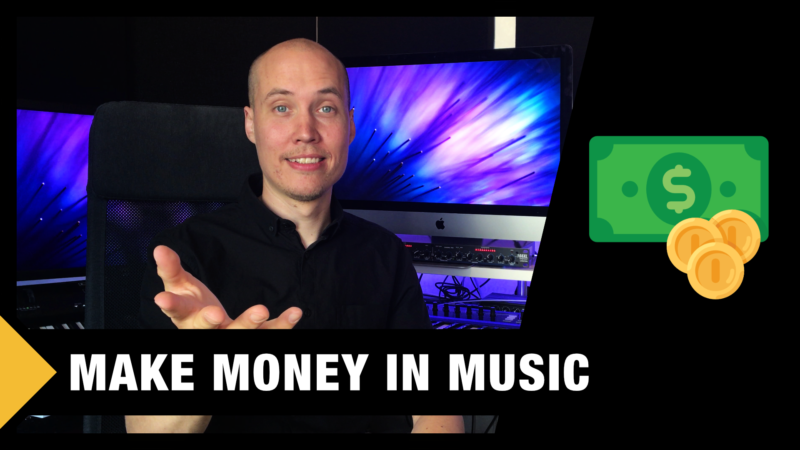 Well, thankfully there are a great number of ways to generate income in many different fields. I have made a list for you to get you started.
7 main fields, with several examples within each field. Then it is up to you to choose how you want to make money from your music skills and knowledge.
Field 1 – Music Composition
Composing music for various projects, clients and end use is probably the most common way to make money as a music composer . Here are some examples:
Compose Music for Clients


Film, TV, games, apps.

Compose for Music Libraries


Exclusive vs non-exclusive. Freelancer vs in-house.

Music Licensing Sync Fees


Make money for the rights to sync your music to media.

Music Composition Royalties


Broadcast & performance royalties, mechanical royalties.

Technical Music Work


Orchestrating, notating, transcribing & arranging music.
Field 2 – Music Production
Producing other artists' music and various music production client work is another common path to make a living in music. Here are some examples:
Music Producer


Mixing, producing and mastering music.

Recording Engineer


Recording instruments, vocals & audio in a studio, an event, or in the field.

Audio Engineering


Live audio & mixing for broadcast & live events.
Field 3 – Music Performance
Playing gigs and performing live as an artist for fans, or booked for a client, is the classic revenue path in music that also builds your own personal brand from exposure. For example:
Playing your own Live Shows


Tours, special events, weddings.

Contracted Musician


Orchestra, band, club, restaurant etc.

Studio Session Musician


Recording instruments & vocals in the studio.

Performance on Live Streams


Performing your music (and covers) on live streams, taking requests etc.
Field 4 – Music Education
People will always need to learn, to evolve, to develop their knowledge and skills. That is why education is another great field in music. Examples:
Teach in a School
Teach private lessons in Person
Teach one-to-one online
Create Online Courses
Write Books or E-Books
Write for a Newspaper
Write for an Online Magazine
Write for a Blog
Field 5 – Sound Design
If you have the skills of recording, shaping, creating sounds, from recording sounds in the studio and in the field, or making them on a synthesizer or instrument…then sound design might be an interesting field for you. Here are some examples:
Sound Design for Media


Foley sound design or digital audio sound design for TV, film, games etc.

Field & Studio Recordings


Recording audio for sample libraries & sound collections.

Sound Design for Instruments


Software/hardware instrument presets, sample library assets etc.

Sound Design for Products


Audio design and control for product user experience.
Field 6 – Fan Support
If you have built a fan base as a music artist, you have many ways to let your fans support your journey. Like for example:
Distributing your Music to your Fans


Getting your music distributed on streaming services like Spotify etc. 

Get Fan Donations


Paypal, Patreon, Kickstarter etc.

Sell Merchandise


Any type of digital or physical product with your artist brand.
Field 7 – Music Influencer
If you develop a presence online as an artist, with your own brand, and build a following…then you have great potential in making money as an influencer online. For example:
Create your own Online Brand (Website & Blog)
Become an Influencer on Social Media (YouTube, Facebook)
Create your own Community (Facebook Group)
Make money from Ads (Adsense, YouTube)
Make money from Sponsors (Brand Deals)
Make money as an Affiliate (Amazon)
Your Music Career
Join my Music Composer Academy

Level Up your Skills
Level Up your Music
Level Up your Career
PS. I wish you Great Success on your Professional Journey in Music! =)
Friendly regards,
Mikael "Mike" Baggström
Music Composer | Sound Designer
PS. Free Downloads for You