Are you often endlessly browsing through your samples on your hard drive and never really finding a good kick sample? D16 PunchBox will help you create and shape the perfect kick drum for your track. Learn more about PunchBox from D16 here. Get a full overview and specifications, listen to audio demos etc.
QUICK OVERVIEW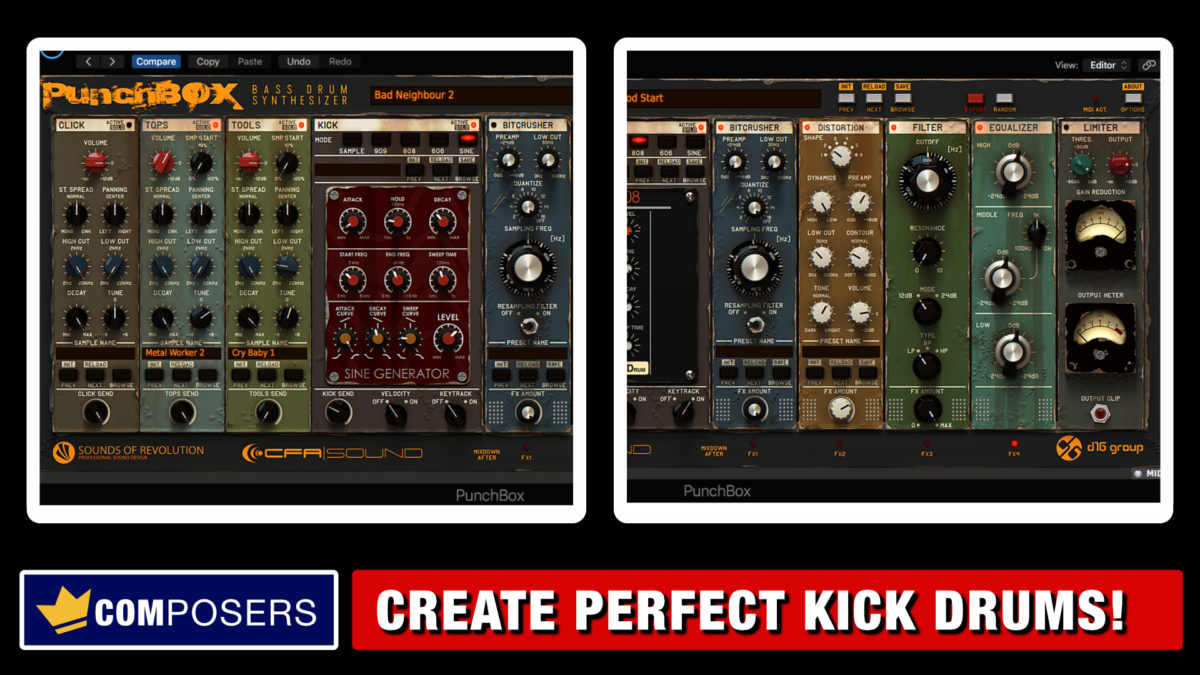 PunchBox made by D16 Group is a mix of samples, synth modules, and effects…in a rack system with an awesome design. It has that dirty, vintage look. And you can design your kick drum with super high precision, from to deepest low end, to the high end sparkle. You do this using the rack designed module approach, creating your kick drum sound from left to right in the rack.
First shaping the foundation of the kick using samples in combination with synthesis. And finally you can further shape the sound with effect modules: Bitcrusher, Distortion, Filter, Equalizer and Limiter.
And of course, most importantly, it sounds really good. Let me now do a sound demo of presets from the 5 categories within this plugin: 606, 808, 909, Sine and Samples.
THE SOUND
The sound you can get in your kick drums from PunchBox is very flexible, and you have lots of control to create, shape and polish the sound the way you want it. However, the modules themselves give a certain "analog style" workflow and inspire you to get that warm and fat character in your kick drums. Just be careful so that you don't push it too hard, so watch those levels in your DAW.
MY PERSONAL FAVORITES
The UI is incredibly inspiring with its dirty, vintage and module based design.
The amount of control is astounding. You can even move the order of the effect modules in the signal chain.
You have a lot of presets, which are organized well in the sound bank on drum machine source, on music style, and even on sound character.
On my tests the CPU usage was very low, even with all modules activated.
MY MAIN FEEDBACK
I would have loved if the UI was scalable, because it can be a bit tricky to see the values on the knobs on a high resolution monitor.
MY FINAL THOUGHTS
PunchBox by D16 is a Swiss army knife for all your kick drum needs. I personally added this instantly into my DAW template, replacing sample players mapped to pads, into my own kick drum creation track. That's how valuable I found this plugin to be.
LEARN MORE
Learn more about PunchBox from D16 here. Get a full overview and specifications, listen to audio demos etc.
PS. Free Downloads for You